Sonny Boy Terry Band back at the Big Easy Social and Pleasure Club May 26th!
BLUES FOR FOOD 2023 IS UPON US SUNDAY, NOVEMBER 12TH, 2023 WITH OUR MOST EXCITING A DIVERSE LINE UP YET.
BLUES FOR FOOD LINE-UP - 1PM - 9PM
ALL PROCEEDS BENEFIT THE HOUSTON FOOD BANK. ADMISSION IS ANY NON PERISHABLE FOOD ITEMS OR CASH. SILENT AUCTION, RAFFLES, 50/50,THOSE WHO DONATE GET A FREE PLATE OF TEXAS BBQ. 
Please share this information and blast the poster all over social media: Here is the tentative time slots for the performers for Blues for Food Sunday November 12th. We do our best to run on time and it's been really good the past few years. Still, anything can happen so we recommend you arrive early to park. Bring friends and family. And remember to donate accordingly to what you are getting which is world class blues, zydeco and roots rock music. Plus you get a plate of really good BBQ. There will be lots of silent auction items blues related collectables and otherwise. Last year raised over 10,ooo dollars and 2K of non perishable food items. We think we can beat that by 20 percent if folks understand what we are trying to do.
Even if you can't go, you can still donate on behalf of Blues for Food and the greater Houston Blues Community by texting to the Houston Food Bank website:
to 71777 then typing in fooddrive22694
1PM - John Egan
1:45 - Bluestown Shakedown/Cristiano Crochemore
2:30 - Allison Fisher and her Swell Band
3:15 - Sonny Boy Terry Band with special guests Applehead, Steve Krase, Dave Carter and Rock Romano
4:15 - James Boogaloo Bolden Band
5PM - The Hightailers
5:45 - The Might Orq
6:30 - CJ Chenier
7:15 - Evelyn Rubio/ Larry Fulcher
8PM - Davi Jay and the Bourbon Street Experience
Master of Ceremonies Boyd Bluestein
Special guest announcers: Outlaw Dave, Chalice Jerome and R. Christian Tucker.
Sonny Boy Terry will be at Stages Theatre playing harmonica in the Play Thunder Knocking on the Door
Starting in June through August 6th, Sonny Boy Terry will be part of the J5 piece Juke Joint blues band as part of the critically acclaimed play Thunder Knocking on the Front Door. The play was written by Keith Clover and the music was written by contemporary blues artist Keb Mo'. More details to follow and the schedule will be added to this web site as time goes.  For now to buy tickets and see the dates and times go to https://stageshouston.com/event/thunder-knocking-on-the-door/
GIVE THE GIFT OF MUSIC WITH AN ELEGANT HARMONICA LESSONS GIFT CERTIFICATE
Texas Harmonica great Sonny Boy Terry is now offering harmonica lessons holiday gift certificates. These beautiful gift certificates are available to create a wonderful presentation for that special someone for the Christmas holiday or birthdays!
Printed on your choice of 8.5X11 grey card stock or white cloth resume paper or you can pay online and we will email you the certificate so you can print it out yourself saving time and money.
We can also provide a high quality harmonica and instructional guide too as part of a specially priced bundle with the lesson purchase.
Please call or text at 713.822.0437 04 just visit this link to SONNY BOY'S TEACHING SITE @ HOUSTON HARMONICA LESSONS
Sonny Boy Terry joins big KNON radio Texas blues harmonica celebration in Dallas on July 30th, 2016.
" Getting invited to perform in Dallas every few years for KNON Radio's annual Blues Harmonica Blowout is always huge fun and a special honor", says Sonny Boy Terry who will join legend Lazy Lester, and top drawer performers Paul Harrington, Hash Brown, Mike Morgan and others for another fine fundraiser for KNON Dallas public radio. This line up is born and bred on good honest blues, so if you are close by, you don't want to miss it. Check out this poster or visit www.knon.org for more details.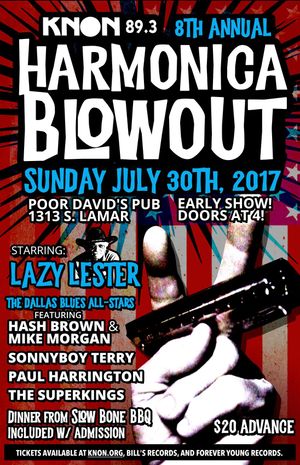 Join Sonny Boy Terry on Twitter