GIVE THE GIFT OF MUSIC WITH AN ELEGANT HARMONICA LESSONS GIFT CERTIFICATE
Texas Harmonica great is now offering harmonica lessons holiday gift certificates .Beautiful gift certificates available - Elegant holiday and birthday gift certificates are also available for a wonderful presentation for that special someone. Printed on your choice of 8.5X11 grey card stock or white cloth resume paper or you can pay online and we will email you the certificate so you can print it out yourself saving time and money. We can provide your harmonicas and instructional guide too as part of a specially priced bundle with the lesson purchased. Visit this link to SONNY BOY'S TEACHING SITE @ HOUSTON HARMONICA LESSONS
THE 30TH ANNUAL BLUES FOR FOOD CELEBRATION IS UPON US SUNDAY NOVEMBER 10TH
BLUES FOR FOOD LINE UP 2019 SUNDAY NOVEMBER 10th!
Please share everyone!
The Shakespeare Pub presents the 30th Annual Blues For Food! Over 12 hours of Live blues music! All proceeds benefit the Houston Food Bank. Admission is non perishable food items and cash. Its the largest collection of Houston blues artists together on stage of the year! THE SHAKESPEARE PUB IS LOCATED AT 14129 MEMORIAL DRIVE, HOUSTON, TX.  For current updates, please visit www.facebook.com/bluesforfoodhouston
GUY SCHWARTZ AND THE NEW JACK HIPPIES
RICK LEE AND THE NIGHT OWLS – LA LA WILSON
ALLISON FISHER AND HER SWELL BAND (2:45 – 3:15PM)
EVELYN RUBIO - ANTHONY TERRY – WILLIAM HOLLIS (3:30 – 4PM)
THE OCTANES (4:15 – 4:45PM)
MARK MAY BAND (5PM – 5:30PM)
SPARKY PARKER BAND (5:45 – 6:15PM)
SONNY BOY TERRY BAND W/ ERICA FOX FEAT; BRAD McCOOL AND APPLEHEAD (6:30 – 7:15)
ODELL GRAY AND THE HOUSE RULES BAND (7:30 – 8PM)
TONY VEGA BAND W/ LITTLE TERRY ROGERS (8:15-9PM)
BLUESTOWN SHAKEDOWN 9:15PM – 9:45PM)
SPARETIME MURRAY'S WORLD FAMOUS BLUES JAM FEATURING LITTLE SCREAMIN KENNY (10PM – CLOSING)
MASTER OF CEREMONIES R CHRISTIAN R Christian Tucker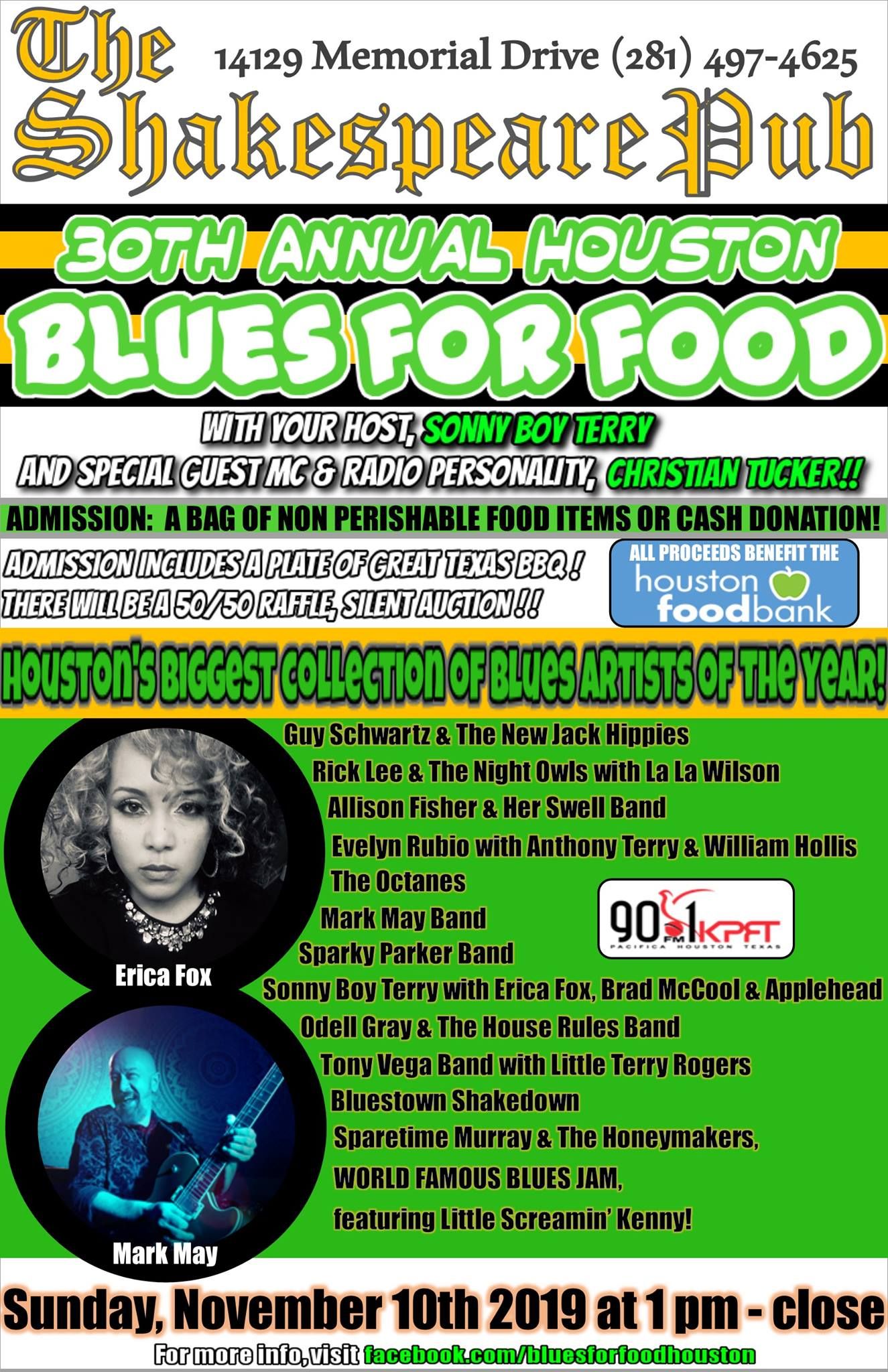 Sonny Boy Terry joins big KNON radio Texas blues harmonica celebration in Dallas on July 30th, 2016.
" Getting invited to perform in Dallas every few years for KNON Radio's annual Blues Harmonica Blowout is always huge fun and a special honor", says Sonny Boy Terry who will join legend Lazy Lester, and top drawer performers Paul Harrington, Hash Brown, Mike Morgan and others for another fine fundraiser for KNON Dallas public radio. This line up is born and bred on good honest blues, so if you are close by, you don't want to miss it. Check out this poster or visit www.knon.org for more details. 
Join Sonny Boy Terry on Twitter