Sonny Boy Terry Biography
As the years go on and his resume deepens,
Houston, Texas
bluesman 
Sonny Boy Terry 
is now being recognized as one of Texas' - if not one of America's top harmonica players and devoted blues recording artists. But Terry wasn't always Sonny Boy and it didn't happen the way many would imagine. Born
Terry Jerome
in the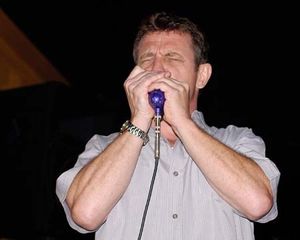 unlikely place of
Van Wert
in northwest
Ohio
on the state line near
Fort Wayne
,
Indiana
, he picked up a harmonica as a teenager in the 1970s , mostly, he says, "because I wanted to jam with my friends, who played guitars".  "I didn't know anything technically about music. I was just a huge music lover," he claims, "I didn't even know you needed more than one key of harmonica". 
But that didn't last long. Terry realized he may actually have a knack for the instrument. He practiced day and night, driving all his friends crazy. Childhood friend and guitarist
Mike Sowers 
mentored Terry on music basics. He taught Terry about playing in different keys and how to learn rock songs the right way. Mike then joined the local rock band Voyager and lobbied for Terry to run sound and play harmonica on a few songs. "I started by playing
Doobie Brothers, Ozark Mountain Daredevils
- stuff that was on the radio," Terry explains. "Crowds loved it so I was given more songs. 
Donn Dunno
(band leader) and the guys were really kind to me. I appreciate them now more than ever. They gave me a crack at a dream," he says as he thinks back on those days. 

Terry loved the opportunities playing with
Voyager
but the band was moving in different directions. At the time, the economy in Ohio and the rust belt was falling in depression - like mode. He had an after high school job at a cheese factory for Bordens Foods but was asked to resign allegedly for missing too many Fridays because gigging was more important. Terry remembers those days well, adding, "I couldn't work in a factory. I was too noisy and I was interested in doing something - anything with my life to get away from that type of life." 
With a hometown band winding down and no decent jobs, Terry's dream was to go to the big city and play with the old black guys. He learned early on blues records were where all the good harmonica playing was. He was driving over to
Mind Dust Music
in near by
Elida, Ohio
buying every discount blues record he could get his hands on. He would also pick up 
Living Blues
magazine and learn about contemporary blues scene all over the USA. "I had nothin' to lose", he says. "I knew if I wanted to play harmonica, I had to go somewhere else to do it."
---
In 1981, after winter broke, a friend in Houston had a job for him, so Terry hit the road in a '66 Chevy Impala SS, his album collection and blues harps never looking back. Little did he know what was in front of him. 
Arriving in Houston, Terry instantly began checking out the blues scene. And oh what a scene it was! First he went to see
Stevie Ray Vaughn
at Fitzgeralds before he was famous. With his beat up strat, kimono, duct taped cowboy boots, and trademark hat, Terry was in awe. "Comng from a small town,
SRV
was the most exotic artist I had ever seen, " Terry states with amazement. If that wasn't enough, the following week he went to see Texas' best blues act, 
The Fabulous Thunderbirds
with
Kim Wilson
on harmonica and Stevie's brother
Jimmy Vaughn 
on guitar. What a band, he thought!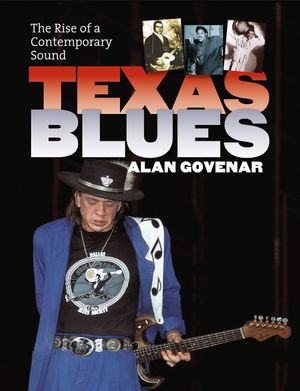 Terry thought God dropped here in Texas for a reason - for a chance at having a life doing what he truly loved. Right in the middle of  a roots and blues boom in the early 1980s, Terry could see any band he wanted on tour while checking a vibrant local scene. 
It wasn't long before Terry was getting itchy himself to get in a band. He would sit in here and there but couldn't buy a gig. "I had chops, but not much discipline." he adds, "i wasn't used to improvising and I needed to do that to get started". He kept at it eventually meeting
Johnny Winter's
former and sometimes drummer
Uncle John Turner
. "I couldn't buy a gig before I met Uncle John. I guess hanging with him gave me a little credibility," he says. Through Uncle John, Terry met
Rocky Hill, Johnny Winter, Joey Long, Alan Haynes
and many others.
By this time, the bad US economy followed Terry to Texas and he was sleeping on Uncle John's apartment floor doing anything he could to avoid going back to Ohio. His first gig in Texas was with
TC and the Cannonballs
in 1983. TC was a legit Texas talent and a great way to break into the scene. They opened for The
Fabulous T-Birds, The Nighhawks, John Hammond, Los Lobos, Robert Cray, Mighty Joe Young, The Sir Douglas Quintet, NRBQ, Paul Butterfield
and just about everybody else it seemed. 
After a year or so, Terry joined white hot and hard core local bluesman
Jerry Lightfoot's
band. Jerry had a huge foot in the door of Houston's black blues community and was instrumental in bringing many of these artists to white audiences revitalizing thier careers. They did shows with
Jimmy T99 Nelson, Teddy Cry Cry Reynolds, Peppermint Harris, Sonny Tippet, Trudy Lynn, Pete Mayes, Joe Guitar Hughes, Grady Gaines and Big Walter Price
. No name dropping here. This was the real deal.
Each experience Terry has had as a musician has always lef to a richer, more rewarding one. With Lightfoot, Terry was beginning to realize his dream. In fact, this is where Terry Jerome became "Sonny Boy" Terry. The story goes one night backstage Lighfoot and Terry were joking around about all the long monikers several local musicians had. Lightfoot jokingly called Terry Little Junior Sonny Boy Terry. That evening, KPFT radio dee jay
Bud Jackson 
was emceeing the gig and introduced Terry as Sonny Boy Terry. The next day,
Houston Chronicle music critic Marty Racine
published Terry's name as "
Sonny Boy Terry
" and that was that. The name stuck. 
"That experience was fantastic," the now Sonny Boy Terry reveals. "Not only was I realizing my dreams playing with the old black guys, we did shows backing band for 
Bo Diddley, John Lee Hooker
and other touring acts. I was actually calling this a career". 
---
In 1990 while Sonny Boy Terry was attending college, he hooked up with
Lighnin' Hopkins
protege' and jazz musician
Kinney Abair.
They performed as an acoustic mixed race duo that caught a lot of attention, but also with a band. They also worked shows with genuine Louisiana bluesman, 
Jimmy Dotson
, who recorded with
Excello V-Jay
and
Slim Harpo
in the late 50s. This led to Terry first trip to Europe, performing at Blues Estafette - Holland's largest indoor blues festival. Terry returned the floowing year with Jimmy for a two week tour.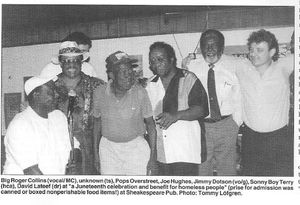 In 1991 Sonny Boy Terry joined major blues legend
Joe Guitar Hughes
band where held his seat for nearly four years. With Joe, Terry played over 200 gigs a year in Europe and the US. He recorded two fine albums with Joe:
Live In Vrendenburg and Down Depressed and Dangerous
. 
Like
T-Bone Walker
said, "A bluesman plays the high places and the low places".
Because of Joe's life-long friendship with blues legend 
Johnny Clyde Copeland
, Terry was asked to play on Johnny's
Catch up with the Blues
album in 1993 recorded in Memphis at
KIVA Studios
wher Stevie ray recorded parts of
In Step
. Terry is featured on JCs
Life's Rainbow, The Nature Song,
the title cut
Catch up with the Blues,
and
Rain.
Recorded for
Verve/Polygram,
this was Terry first recording on a major label.  
Around this same period, Terry was deeply entrenched in Houston's blues scene. With the blessings of Joe Hughes, Johnny Copeland and
Pete Mayes
, Terry founded the 501(C)3 non-profit 
Houston Blues Society
.  "It was started on 300 bucks of HBS T-shirts," he honestly says    "It was money I used to get tees instead of getting my car out of the shop",  They sold 50 shirts with a membership the very first night. Terry got his 300 dollar invesment back and that was the beginning of HBS.  Sonny Boy Terry served as president for three and a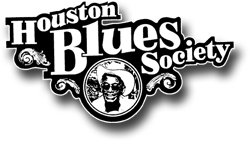 half years winning the prestigious "
Keepin the Blues Alive
" award for best organization in 1996 at the
Blues Foundation's WC Handy Awards
in Memphis. "My goal was to put
Houston
on the map", Terry boldly states. he adds, "I think we did a great job in short period. We brought alot of musicians from Houston to light."  
In 1996, Terry had all the best experience in imagineable. He was a full blown blues musician now with firey chops to burn. And after playing so many years with
Joe Hughes
, he was ready to lead a band.  It was slim pickins at first. Terry had never fronted a band singing before. But Terry says "I peaked playing Joe. I needed to be a self reliant adult and musician." Terry goes on by saying, " If I wanted to grow and get better, I need to sing and write my own songs." 
Actually, it wasn't that tough to get rolling. Playing with Joe and Copeland, Sonny Boy had lots of street cred. Getting his singing up to speed took a few years but eventually led to a Monday night house gig at
Billy Blues
and a steady Thursday night at Houston's
Shakespeare's Pub
, where he has been for 12 years now.  He's performed at festivals all over the world including the
Costa Rica Blues fest, The Blind Lemon Jefferson Blues Fest (Dallas), The Navasota Blues Festival and The Houston International Festival
, among others. 
---
In 2004 Sonny Boy Terry signed on with Austin imprint 
Doc Blues Records
. They, in turn reissued his acclaimed
Breakfast Dance
album along with a newly minted "
Live at Miss Ann's Playpen
". Both these albums recieved strong reviews making the industry take notice making his future bright on the international blues scene.
Sonny Boy Terry
is now the biggest selling artist on Doc Blues. How did this happen? Terry explains, "I go out and gig as much as I can.
Johnny Copeland
always told me a bluesman has to make the record work for him." He adds, "There is no fat man with a cigar going to make you famous. That's an illusion. Selling albums off the bandstand is part of the job. That's reality in blues." 
Now, an established session musician, solo recording artist, and an artist who has deep tied to Houston's rich blues history, Sonny Boy terry is pushing his career to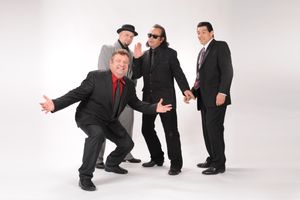 another level. In 2005, terry appeared on
BB King
bandleader
Calvin Owens' Keepin the Big Band Blues Alive.
Talk about music history - that same year, he also joined rock and roll pioneer
Roy Head
for a remake of his 1965 number 5 hit "
Treat her Right
" - a version that was repleat with 
Little Richard's
saxaphonist 
Grady Gaines 
on a honking Texas tenor solo.  In 2009, he added harmonica solos to Houston alt.country rock act
Whiskeyboat's
debut album
Congress Hotel.  

2011 holds alot of promise for
Sonny Boy Terry.
He has a newly formed band and a new album is planned. He is releasing all his video footage on YouTube, and with a show in the midwest coming up with
Brownsville Station
drummer
Henry H-Bomb Weck
, if all goes well Sonny Boy Terry hopes to break out more in the US in the upcoming year.
.